Other LSM newsletters

In Touch With LifeSavers features in-depth accounts of babies who have been saved and women who have been helped by LifeSavers Ministries, along with news about upcoming LifeSavers events and other ministry news. In Touch With LifeSavers is published occasionally, when funds allow.

Subscribe | Read back issues
Weekly Ministry Focus
---
Volume 6, Number 3
March 31, 2006
Weekly Ministry Focus

Doomed triplets saved from abortion during day of oppression
Last week as Christians stood outside the Family Planning Associates abortion chamber in Bakersfield reaching out to the women seeking abortions, a grey-haired man walked into the parking lot and began trying to interfere with the Christians. Every time a woman entered the abortion business, the man yelled "you have a choice! These people are lying to you! They won't really help you!"
Soon, two police officers arrived, apparently to talk to the heckler in the parking lot. After a brief conversation with the man, the officers approached Terri on the sidewalk and forcibly stole the personal voice recorder she was using to document the ministry activities of the day, threatening to charge Terri with a crime for recording a "private" conversation with the officer on the public sidewalk.
The heckler and those who shared his views--both seen and unseen--failed in their mission to discourage women from reconsidering their abortion decisions. Several children were saved from abortion, in spite of the seemingly impossible circumstances they faced.
Praise God for the lives of these children as you read how God saved them from the devil's abortion trap:

"Polly" arrived at the abortion chamber intending to abort her triplets, while the heckler continued shouting. Polly went upstairs into the waiting room, but her sisters "Georgette" and "Sharlene" began talking to Debbie, one of the Christians on the sidewalk, as she tried to ignore the man's attempts to interfere. After several minutes, Debbie invited Terri* into the conversation.
The Christians hoped to convince Georgette and Sharlene to go inside and encourage Polly to leave before it was too late. Georgette was extremely hostile, seeking to justify the reason her sister was at the abortion chamber. According to Georgette, Polly's abortion was medically necessary. "The hospital sent her here,"Georgette stressed, referring to San Joaquin Community Hospital (the Adventist hospital located next to the abortion business). "Polly is in a very high risk situation. The hospital was going to send her over by ambulance, but we asked them to allow us to bring her in our own car, because we don't have the money to pay for an ambulance."
"Her health is in danger," Georgette continued, "and her babies are deformed. She is pregnant with triplets, but two of the babies' heads are joined together and the third baby has a large hole in its stomach." Terri and Debbie wondered if Georgette was exaggerating the problem, because Polly was only eight weeks pregnant and it seemed unlikely that the hospital would have detected such defects during the first trimester. But Georgette insisted that she had personal knowledge of the severity of the problems, explaining "I saw the ultrasound."
Sharlene, the other sister, seemed geniunely concerned for Polly's condition, and tried to listen to Terri and Debbie in spite of the heckler's continued distractions. Terri asked Sharlene, "were you in the room to see the ultrasound?"
"I saw the paperwork," Sharlene answered. "It says 'MUST ABORT' on it."
Terri explained that women often say that their doctors advise abortion, but that many times she has seen children born perfectly healthy who were diagnosed as dead or severely deformed while in the womb. She told the sisters about baby Lorenzo Timothy, who was born healthy recently in spite of the fact that several doctors told his mother that she had a tubal pregnancy.
Terri warned the sisters that 71-year-old abortionist Kenneth Wright was on duty that day, and that he has been responsible for many botched abortions, and has been sued for killing and injuring women. "It's really not safe for her to be in there," Terri explained, "please let us help her get a second opinion like we did for Lorenzo Timothy's mother."
"The hospital knows what they're doing," Georgette snapped back. "You guys are supposed to be Christians, so instead of talking to us, why don't you just pray for her?"
"We have been praying," Debbie replied, "but you need to hurry and get her out of there."
Joining hands with Georgette and Sharlene, Terri prayed that God would protect Polly and heal her babies, and that somehow through this situation God would be glorified.
Immediately after Terri finished praying, Sharlene went back to the hospital to try to find out more about the condition of her sister and the triplets. But Georgette joined with the heckler, trying to interfere with the Christian ministry and spreading lies about some of the Christians. When the police officers arrived to talk to the heckler, Georgette complained to the officers about the Christians.
Polly remained inside the abortion building for over an hour after the police left. When she finally left, the Christians thought that her children could already be dead.
About an hour later, police officers returned, seeking additional information from Georgette and the heckler (although the officers had never attempted to interview any of the other Christians on the sidewalk about the events of the day). But Phil, the FPA security guard, informed the police that Georgette and the heckler were no longer there, and he didn't know their names.
With all of the commotion of the day, Terri and the others forgot about Polly and her triplets until the end of the day, when Sharlene came to the door of the LifeHouse. Fearing that Sharlene's arrival might relate to the police oppression she experienced that day, Terri asked Tim to answer the door.
Smiling enthusiastically, Sharlene told Tim "I wanted to thank the woman I met out on the street. We went to another doctor and the triplets are alive and healthy! I have already met with an attorney who says that we should sue the hospital."
When Terri heard that God had saved these triplets from abortion, she began to realize that the oppression and hostile attacks she had experienced that day were symptoms of the spiritual warfare which was taking that place over these three precious children in their mother's womb.

When Terri offered to show "Vicky," 17, a video about abortion, Vicky refused at first, saying "I've heard about that video--people who see it change their minds about abortion. I'm just not ready for a kid."
Vicky feared that this pregnancy would hurt her relationship with her mother. Her only brother had been very close to her mother until his girlfriend became pregnant. "I don't want that to happen to me," Vicky insisted.
Standing just a few steps away from the abortion chamber, Vicky poured out her heart to Terri. "You're so easy to talk to," Vicky told Terri, "I haven't been able to talk to anybody about this."
When Terri again mentioned the video about abortion, Vicky asked "will it make me change my mind?"
"Well," Terri smiled, "I hope so."
Finally, Vicky agreed to watch the video. Afterwards, she hugged and thanked Terri and drove away. Terri encouraged her to call whether or not she ends up aborting her baby.

"Marisol" and "Juan" drove from their home in rural Tulare County to Bakersfield's abortion chamber, intending to end the life of their twelve week old child. The Spanish-speaking couple paid little attention to the Christians on the sidewalks. But inside the killing center, Marisol was told that she would need to go to Long Beach for her abortion, because she is a high risk due to her previous cesarean births.
Returning to their car, the couple discovered that they had locked their keys inside. Juan asked the Christians for something to help him unlock the door. While he struggled with the car, Terri gave Marisol her phone so that Alicia*, the leader of LSM's Elizabeth League, could find out what kind of help she needed. As Alicia talked to Marisol, Terri showed her a video about abortion.
Eventually Juan was able to unlock the car, and the couple returned home with their new little child still living in her womb.

As "Janisa" hurried into the abortion chamber, Maria offered help from the sidewalk. Her boyfriend remained outside the abortion chamber, claiming that he was just her ride and that he had nothing to do with her situation.

But the words Maria had shared went deep into Janisa's heart. She hurried down the stairs, falling into Maria's arms and crying "thank you for talking to me."

With huge smiles on their faces, Janisa and her boyfriend drove away, returning to their home in Porterville.

*LSM team member
---
Scripture Focus: 1 Peter 4:1-2


Therefore, since Christ suffered for us in the flesh, arm yourselves also with the same mind, for he who has suffered in the flesh has ceased from sin, that he no longer should live the rest of his time in the flesh for the lusts of men, but for the will of God.

Ask God to give you the same attitude Jesus had as He approached the cross, so that the devil's attacks will not distract you from what God called you to do.
---
Prayer Focus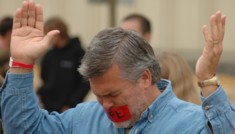 Jesus, I plead your blood over my sins and the sins of this nation. God, end abortion and send revival to America.
---
Funeral Sunday for baby saved from abortion
Kennedy Ramirez, daughter of Fausto and Eliza Ramirez, passed away on March 25, 2006, just a few days after her birth. Apparently baby Kennedy suffered from SIDS (sudden infant death syndrome). Her funeral will be held on Sunday, April 2, at Basham Funeral Care on Niles Street in Bakersfield.
Last year, when Eliza had discovered she was pregnant with Kennedy, she initially planned to abort the child, but Eliza's sister-in-law Anna encouraged her to get help from LifeSavers Ministries instead of going to the abortion chamber. About four years ago, Anna had first encountered Tim and Terri Palmquist of LifeSavers Ministries on her way into the abortion chamber. Anna's twin girls are alive today because of that encounter.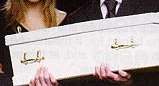 Devastated by the death of her precious daughter, Eliza turned to Anna for help. Anna planned several car washes to raise funds for the funeral, but recent weather frustrated their plans. A few days ago, Tim and Terri happened to encounter Anna and Eliza at a local store, providing some assistance with funeral expenses from LifeSavers Ministries. However, additional help is needed.
If you are willing to help with this need, please designate your donation for "funeral expenses," or contact us at 323-2229 for information on how to provide direct help to this needy family.
---
Baptist pastor speaks out for Palmquists, LSM
Wiley Drake, pastor of the First Southern Baptist Church of Buena Park, California, has alerted his nationwide radio audience to pray for LifeSavers Ministries and Tim and Terri Palmquist because of the recent problems they have experienced with Bakersfield police. Tim Palmquist was a guest on a recent edition of Pastor Drake's Crusade Radio show, explaining the controversy over Terri's voice recorder which was forcibly taken by a BPD officer.
Pastor Drake has often discussed issues facing the Palmquists over the past several years. In 2002, when Terri was falsely accused of threatening an abortionist because she read Bible verses to him, Pastor Drake came to Bakersfield for a live broadcast. If charges are filed against Terri in the current case, Pastor Drake plans to return to Bakersfield. In the meantime, he has been contacting Bakersfield Police Chief Bill Rector and other local officials encouraging them to take a stand for righteousness in this case.
Pastor Drake also encourages his listeners to pray for LifeSavers Ministries and the Palmquists every morning between 5 and 7 am on his prayer line (641) 497-7302, access code 399430.
"Over the past fifty years that I've been attending Southern Baptist Conventions, I don't think I've ever met a Southern Baptist any more committed to our conservative values than Wiley Drake," said Pastor Bill Dodson of Murray, Kentucky. "He has the kind of guts that Southern Baptists have always loved in their leaders, and I think it's time we recognize that Wiley really does represent a segment of Southern Baptists." Dodson plans to nominate Pastor Drake to be second vice president during this year's Southern Baptist Convention annual meeting.
---
Subscribe
FrontLine Ministry Focus
Volume 7 (2007)

("Weekly" Ministry Focus)
Volume 6 (2006)
Volume 5 (2005)
Volume 4 (2004)
Volume 3 (2003)
Volume 2 (2001)
Volume 1 (2000)