Click here to send this page to a friend
---
Upcoming Events
---
National Planned Parenthood Protest
(Saturday, August 22 from 9-11 am at RiverLakes Community Church, 4301 Calloway Drive, at the corner of Hageman and Calloway)


Candlelight vigil at Planned Parenthood
(Saturday, August 22 from 8-9 pm at 2633 16th St.)


40 day prayer vigil
(September 23 through November 1, 2015 at 25th & H)


Life Chain
(October 25, 2015 at 24th & H)


Every Tuesday and Saturday, pregnancy evangelism opportunities abound in Bakersfield outside the Family Planning Associates abortion chamber at 25th & H. For more information call (661) 706-2229.
For information on bringing Terri or Tim Palmquist to speak, sing, or present a pro-life seminar for your group, click here.
---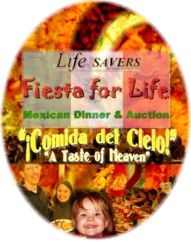 Congratulations to El Adobe Restaurant,
winner of the 2008 "Comida del Cielo" award!
El Adobe's cheese enchiladas were voted as the favorite entree by attendees at the 2008 Fiesta for Life Mexican Dinner and Auction.