Other LSM newsletters

In Touch With LifeSavers features in-depth accounts of babies who have been saved and women who have been helped by LifeSavers Ministries, along with news about upcoming LifeSavers events and other ministry news. In Touch With LifeSavers is published occasionally, when funds allow.

Subscribe | Read back issues
Weekly Ministry Focus
---
Christian woman reaps post-abortion cancer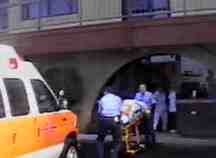 Bleeding uncontrollably, the young Christian wife was transported to Kern Medical Center by Hall Ambulance.
A local Christian wife in her early twenties recently faced the realization that she had lost her God-given ability to bear children. The woman was diagnosed with cervical cancer last month. In February 2003, she had been rushed to a hospital by ambulance after almost bleeding to death from a botched abortion. FPA abortion chamber staff members laughed and joked with each other as the ambulance pulled away.
When the woman was first diagnosed with cervical cancer, she was expected to die from the cancer within six months. But her doctors eventually determined that a hysterectomy may save her life, if the cancer has not spread beyond her cervix and womb.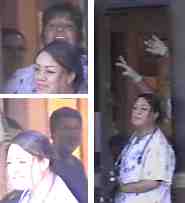 Abortion staff cavorts as injured woman is taken away.
After the botched abortion, Tim and Terri Palmquist of LSM helped the cancer victim's desperate father locate his daughter. "I'm a Christian, and I'm against abortion," the anxious father said. The abortion chamber staff refused to provide him with any information; even the name of the abortionist remained secret.
More details of this travesty are available in LifeSavers Ministries' Weekly Ministry Focus Volume 3, Number 4 (published February 17, 2003).
Please pray that God will protect this woman and her family from the devil's attacks.
---
More news from Weekly Ministry Focus Vol. 3 No. 15 [an error occurred while processing this directive]