Other LSM newsletters

In Touch With LifeSavers features in-depth accounts of babies who have been saved and women who have been helped by LifeSavers Ministries, along with news about upcoming LifeSavers events and other ministry news. In Touch With LifeSavers is published occasionally, when funds allow.

Subscribe | Read back issues
Weekly Ministry Focus
---
Volume 3, Number 15
December 31, 2003
Weekly Ministry Focus

Unfaithful boyfriend helps woman choose life for her baby
Last Tuesday, the day before Christmas Eve, Bakersfield's "Family Planning Associates" abortion chamber was overflowing with women who were seeking to destroy a precious gift from Christ. Outside, a few Christians stood pleading with the mothers to have compassion on their children. Abortionist Kenneth Wright returned for the fourth week in a row to dismember countless tiny children created in the image of God. No abortions were committed last Monday. Here are some recent reports of babies saved from this busy killing center:

Gary stood outside the abortion chamber early Monday morning, armed with literature he intended to give to women who were considering abortion. But as Gary's designated time on the sidewalk drew to a close, nobody had accepted any of his literature.
Preparing to leave, Gary got into his van. Just then, he noticed a couple in their twenties approaching the abortion chamber, so he hurried back out of his van. The young woman, "Sondra," appeared to be angry at the young man, "Curt." It appeared to Gary that Curt didn't want Sondra to abort their baby.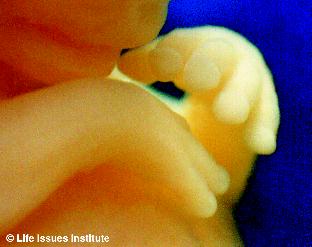 A baby's hands at seven weeks from conception (about the age of Sondra's baby).
Gary encouraged the couple to come across the street to the LifeHouse pregnancy help center for counseling. At the LifeHouse, Terri* showed Sondra and Curt a video about abortion. Curt was amazed to see how fully formed a baby is even just a few weeks after conception, and he was shocked to see how babies are ripped apart during abortions. "That's exactly what we needed to see," he told Terri.
Sondra revealed that when she gave birth to her daughter almost three years ago, Curt claimed that he was not the baby's father. Curt's accusation hurt Sondra deeply.
Terri asked "is there a chance that it wasn't his baby?"
With tears streaming down her face, Sondra cried, "no, I've never been with anyone else. He has cheated on me, but I've never cheated on him."
As Sondra cried, Curt said "oh, babe, I didn't know you felt that way. I'm sorry. I won't say that anymore. I know that it's my baby."
Terri gave Sondra a gift for her new baby, and then she prayed with the couple. They expressed interest in being helped by an "Elizabeth League" church group, explaining that they attend a local Catholic church, and have been talking about getting married.
Sondra and Curt hugged Terri, expressing appreciation for her help.

A group of people who appeared to be from a middle-eastern country arrived in several different cars, accompanying a young woman into the abortion chamber. When Terri tried to offer help to the woman and asked her to protect her baby, the man who was with her responded by repeatedly exclaiming a profanity and mocking Terri.
An older man who was a part of this group came in a car which had a bumper sticker proclaiming "Jesus is Lord." Terri asked the man, "is Jesus really your Lord or is this not your car?" He acknowledged that Jesus is his Lord. "Then why are you supporting abortion," Terri inquired, "if Jesus is Lord?" The man did not respond.
The group remained outside the abortion chamber for hours. Several times, the pregnant woman came out of the abortion chamber to talk to the group. Terri took these opportunities to offer help and tell her about the development of the baby inside (displaying pictures of fetal development and abortion on a portable DVD player).
Finally, the pregnant woman and her companion approached Terri to tell her that they decided to keep the baby. "I'm sorry," the man said, "I know I was wrong. Thank you for your help."
* LSM team members
---
Scripture Focus: Romans 10:5-13


Moses describes in this way the righteousness that is by the law: "The man who does these things will live by them." But the righteousness that is by faith says: "Do not say in your heart, 'Who will ascend into heaven?'" (that is, to bring Christ down) "or 'Who will descend into the deep?'" (that is, to bring Christ up from the dead). But what does it say? "The word is near you; it is in your mouth and in your heart," that is, the word of faith we are proclaiming: That if you confess with your mouth, "Jesus is Lord," and believe in your heart that God raised him from the dead, you will be saved. For it is with your heart that you believe and are justified, and it is with your mouth that you confess and are saved. As the Scripture says, "Anyone who trusts in him will never be put to shame." For there is no difference between Jew and Gentile--the same Lord is Lord of all and richly blesses all who call on him, for, "Everyone who calls on the name of the Lord will be saved."




Confess Christ as your Lord (owner) as you ask Him how He can use you today to spur others toward righteousness and faith.
---
Prayer Focus
Jesus, help us to keep our eyes on You, no matter what difficulties we face in this ministry in the coming year.
Dear God, please help us to be used by You to end abortion in Bakersfield in 2004.
Touch the heart of abortionist Kenneth Wright. Bring him into situations which cause him to realize his need to have compassion on the innocent victims of abortion.
---
Christian woman reaps post-abortion cancer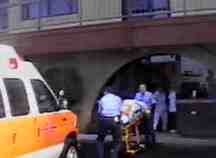 A local Christian woman in her early twenties recently faced the realization that she had lost her God-given ability to bear children. More...


---
Help save more in 2004!
LifeSavers Ministries needs your support to continue reaching out with pregnancy evangelism ministries on the sidewalks outside abortion chambers, at the LifeHouse pregnancy help center, in churches, and throughout the community and nation. We look forward to watching God save hundreds of children from abortion in 2004.
Will you be a part of this great victory? Please consider becoming a regular monthly supporter of LifeSavers Ministries and/or the Palmquist family. For your convenience, automatic monthly deductions are available upon request. Please contact Tim by phone at 661-323-2229 or 866-949-2229, or send a message to palmquists@glorifyJesus.com.
---
Ministry needs
Furniture for LifeHouse reception area (we need a comfortable couch and loveseat)
Personal hygiene items and Bibles to be given to post-abortion women
Baby booties or socks
[an error occurred while processing this directive]