Other LSM newsletters

In Touch With LifeSavers features in-depth accounts of babies who have been saved and women who have been helped by LifeSavers Ministries, along with news about upcoming LifeSavers events and other ministry news. In Touch With LifeSavers is published occasionally, when funds allow.

Subscribe | Read back issues
Weekly Ministry Focus
---
Volume 3, Number 11
April 14, 2003
Weekly Ministry Focus

Indian man makes the right "choice" for his wife
For the third week in a row, a different anonymous abortionist came to Bakersfield last Monday and Tuesday to execute tiny children at the Family Planning Associates abortion chamber. Christians stood on the sidewalks outside this death center, offering hope and help to women deceived by the devil. At the LifeHouse pregnancy help center across the street, many women came for free pregnancy tests and other material assistance. The stories of a few of the women who were touched by these ministries last week are provided below:

A woman from India who came to FPA with her husband last week appeared to have little say in the decision of whether or not her preborn child would survive.
Linda* asked the couple if they were considering abortion. The man said that his wife was 45 days pregnant, explaining that she had scheduled an abortion because they had enough children already.
Linda encouraged them to come across the street to the LifeHouse so that she could show them a video about abortion. He agreed to go across the street with Linda, leaving his wife in the car.
The man became increasingly uncomfortable as he viewed the video's depiction of the violence which was soon to be inflicted upon his wife and child. When a baby's tiny hand was shown next to a dime on the screen, he stood up and declared "I need to go talk to my wife."
Hurrying across the street ahead of Linda, he quickly entered the car and told his wife that they needed to leave. Without any further discussion, the couple left the killing center.

As "Dena" was being examined inside the abortion chamber, she was told that she would need to undergo a two-day abortion procedure, because she was 14 weeks pregnant. Repelled by thoughts of enduring such a long process, Dena walked out.

Terri* met Dena on the sidewalk, giving her a gift box filled with items for her baby. Terri explained LSM's new "Elizabeth League" effort to support and encourage pregnant women through the church. "I really do need to get back into church," Dena responded.

Terri brought Dena to the LifeHouse, along with Dena's friend "Lucy," who is also pregnant. After Dena and Lucy watched a video about abortion, Dena said she could

Have you helped us financially this month? If not, please help us today! Our monthly payment for the LifeHouse is due tomorrow, and we do not have enough money in the bank!

no longer consider abortion as an option.

Lucy needed maternity clothes and diapers for her baby, so Terri gave her what she needed as the four of them headed out the door (two of them, thriving in the womb, who may never realize that they were once on the very doorstep of death).

As "Jan," 21, was waiting for a friend who was inside the abortion chamber, she noticed the "free pregnancy test" sign across the street.
Inside the LifeHouse, Pam* helped Jan with a pregnancy test. The results were negative.
When Jan's friend came out of the abortion chamber, Jan encouraged her to come to the LifeHouse to see the video about abortion. After watching the video, Jan's friend told Terri that she would have kept the baby if she had seen the video first.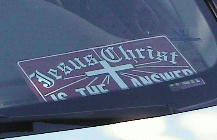 Confident in the unconditional forgiveness of Jesus Christ, some Christians walked into the devil's snare last week by entering the FPA killing center. Their "testimonies" were prominently displayed on their vehicles, using witnessing tools such as a "Jesus is the answer" sign prominently displayed on the dashboard. To learn how Christians can reach such misguided brethren, read the book Transforming the Gates of Hell into the Gates of Heaven, available at the LifeHouse.
Judit* gave Jan and her friend a ride to the pharmacy to pick up antibiotics for Jan's friend, hoping to help her avoid the risk of post-abortion infection.
* LSM team members
---
Scripture Focus: Luke 17:1-2


"Then He said to the disciples, 'It is impossible that no offenses should come, but woe to him through whom they do come! It would be better for him if a millstone were hung around his neck, and he were thrown into the sea, than that he should offend one of these little ones.'"




Ask God to break through the hearts of those who have allowed themselves to become a tool of the devil to destroy these little ones. Pray that God will help us to show them the consequences of their actions, not only for the helpless children, but for their own spiritual welfare.
---
Prayer Focus
Dear God, please empower us with your strength, so that even when we feel too weak to continue this ministry, Your power will work through us to do things we could never handle.
Draw Dena closer to You, and help her to turn to You for the strength to make it through this pregnancy.
Expose the deception of the three anonymous abortionists who have killed children in Bakersfield in recent weeks. Help us to find out who they are so that we can more effectively warn women of the damage they have caused to other women.
---
Seminar tonight
Tonight (Monday, April 14) from 6-9 pm, join us at the LifeHouse for a pro-life seminar, "Speaking the Truth in Love: an Introduction to Pregnancy Evangelism."
The seminar is open to anyone who is interested in learning more about how to reach pregnant women with the Gospel of Life. Participants are not required to be LifeSavers Ministres team members, but all LSM team members are required to complete this training process.
---
MINISTRY SCHEDULE

This week we will focus our ministry efforts on the abortion days, Monday and Tuesday from approximately 7 am to 5 pm.
---
A busy day of bloodshed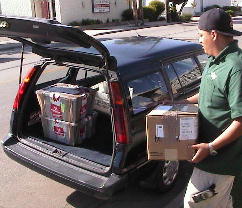 [an error occurred while processing this directive]