Other LSM newsletters

In Touch With LifeSavers features in-depth accounts of babies who have been saved and women who have been helped by LifeSavers Ministries, along with news about upcoming LifeSavers events and other ministry news. In Touch With LifeSavers is published occasionally, when funds allow.

Subscribe | Read back issues
Weekly Ministry Focus
---
PRESS RELEASE
For Immediate Release
Monday, August 20, 2001
Press conference to be held Tuesday at 9:30 am
Bakersfield abortionist sued for wrongful death
Kimberly K. Neil died on May 22, 2000, after being subjected to an abortion by "Family Planning Associates" abortionist Kenneth L. Wright. Last week, her family filed a wrongful death lawsuit in Fresno against Wright and Family Planning Associates.
"Kimberly's death is just the tip of the iceberg," observed Terri Palmquist of LifeSavers Ministries. "FPA tries to hide the injuries they cause to women, forcing women to sign a consent form which makes most of them think they have signed away all of their rights. The form tells women not to seek medical attention from anyone else after an abortion."
For decades, Wright has traveled to Bakersfield weekly to commit abortions.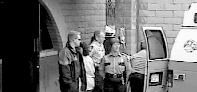 Accurate statistics on the number of women who have been killed or seriously injured by abortions in Bakersfield are not available. "While it is not unusual to see an ambulance taking a woman away from the Family Planning Associates abortion chamber in Bakersfield, it is very rare for us to find reliable information about whether or not the maternal victim died," commented Tim Palmquist of LifeSavers Ministries.
Wright is also facing a new lawsuit from a Tulare County woman who suffered "borderline gangrene" and required emergency surgery after an abortion. "You can't write off negligence with a disclaimer," said Lita Reid, the woman's attorney, realizing that FPA will use the consent form in their defense.
"Abortionists like Wright have been temporarily successful in their efforts to hide the bodies of their victims, but the fact that abortion is bad for women will soon become common knowledge," predicted Terri Palmquist. "We pray that many lives are saved because of the courage of Kimberly's family, and we pray that this lawsuit may lead Wright to finally repent and stop the killing." Palmquist also encouraged women who have been injured by abortion to "first seek competent medical care, and then let us help you find a good lawyer."
The Palmquists will discuss the implications of this lawsuit for the women of Bakersfield at a press conference on Tuesday, August 21, at 9:30 am, at the corner of 25th and H in Downtown Bakersfield. Bakersfield's Family Planning Associates abortion mill is located on this corner, along with LifeSavers Ministries' pregnancy help center, "The LifeHouse." Wright is also expected to arrive at FPA during the press conference.
---
Return to Weekly Ministry Focus Volume 2 Number 16

[an error occurred while processing this directive]