Here are some of the ways that God uses Christians to reach out to these women and children:
Prayer | Visual witnessing | Pregnancy evangelism | Support
PRAYER: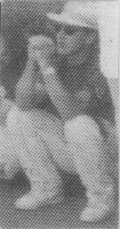 Some dedicated Christians come to the abortion chamber with the single goal of praying for those who will enter the abortion chamber. Many times, these prayers have been used by God to change a woman's heart, helping her to realize the holiness of God's standards and to repent of her decision to abort her child. These prayers are also essential in encouraging and ministering to the pregnancy evangelists (sidewalk counselors). (If God has already burdened you to pray about abortion, please consider how much more effective your prayers would be if you were at the abortion chamber.)
What does God want you to do?