Other LSM newsletters

In Touch With LifeSavers features in-depth accounts of babies who have been saved and women who have been helped by LifeSavers Ministries, along with news about upcoming LifeSavers events and other ministry news. In Touch With LifeSavers is published occasionally, when funds allow.

Subscribe | Read back issues
Weekly Ministry Focus
---
Volume 6, Number 6
May 25, 2006
Weekly Ministry Focus

Dreaded abortion trip blesses mother and daughter
Several women who traveled long distances for their abortion appointments this week decided at the last minute not to abort their babies after encountering Christians outside abortion chambers. As elderly abortionist Kenneth Wright drove from Fresno to Bakersfield's "Family Planning Associates" abortion chamber, women were driving hours from places like Ridgecrest and Lancaster to surrender themselves and their babies to the abortionist's knife.
But God spared the lives of at least one of the Ridgecrest babies, and probably two of the Lancaster babies. Even as the Holy Spirit was working in women's hearts outside Bakersfield's abortion chamber (and at the LifeHouse pregnancy help center across the street), He was saving the life of a Bakersfield woman's baby in Long Beach.
Give God the glory for saving these lives as you read more about how God turned these women's days of tragedy into days of joy:

"Renee" and her mother traveled to a Long Beach abortion chamber this week, but decided to cancel the abortion and enjoy their day together. Renee had decided to abort her fourth baby (22 weeks old) because she was so overwhelmed by the responsibilities of being a single parent for her three young children. The Bakersfield FPA abortion chamber sent her to their headquarters in Long Beach because her three cesarean deliveries and size of her baby made her a high risk for abortion complications.
This was Renee's second attempt to travel to Long Beach for the abortion. A week earlier her van had broken down in Gorman (about halfway to Long Beach).
Anne, who works at His Nesting Place (a Long Beach church which operates a maternity home and other pregnancy help ministries) regularly stands outside the Long Beach FPA abortion chamber ministering to women. When Renee came to the Long Beach killing center Tuesday, she tried to suck her stomach in so that it wouldn't be obvious that she was pregnant. But Anne wasn't fooled, showing Renee a baby model which was about the size of the baby in her womb.
Anne learned that Renee was from Bakersfield, so she called LifeSavers Ministries so that Renee could talk to Terri* about the help available for pregnant women in Bakersfield.
Terri learned that Renee's mother had driven from her home in rural Riverside County to be with her during the abortion, so Terri asked Renee, "Does your mom want you to abort this baby?"
"No," Renee responded.
"Does your boyfriend want you to go through with the abortion?"
"No."
"I don't think you're really wanting abortion either, or you wouldn't be talking to me, right?"
"I guess you're right," Renee confessed.
"Instead of aborting your baby, you and your mom should enjoy a fun day together," Terri suggested. "Why don't you go shopping?"
So Renee and her mother left the abortion chamber and drove to historic Olvera Street, enjoying the day shopping and eating at a restaurant. Renee's mother accompanied her home to Bakersfield.
On Wednesday, Terri called to check on Renee. Renee's mother cried and thanked Terri for her help, explaining that she is a Pentecostal Christian and that she has been praying for this baby for four months. "I dreamed that I was talking to this baby in the womb, telling the baby 'you have the key.'"
"God has planned something important for this baby to do and that is why the devil wanted to trick Renee into aborting this baby," Terri responded.
Renee is her mother's only child. Renee's mother thought that she could never become pregnant, but she was surprised when she became pregnant with Renee at 40. Renee was almost killed in the womb due to a doctor's bad advice, but God saved Renee's life.

"Jack" and his parents are leaders in a local church, so when he discovered that his girlfriend was pregnant, he decided to seek an abortion to avoid confessing his sin to his Christian family. But Jack's mother brought the couple to the LifeHouse for a pregnancy test, saying that she is against abortion "but it's their choice."

The couple watched a video about abortion at the LifeHouse, and Tim* and Terri* prayed for God's guidance for the couple and protection for their child. Terri then sent the couple to the Bakersfield Pregnancy Center for an ultrasound.

"The baby was waving at us," Jack later told Terri, assuring her that they are no longer considering abortion.

*LSM team member
---
Scripture Focus: Micah 6:6-8


With what shall I come before the Lord,
And bow myself before the High God?
Shall I come before Him with burnt offerings,
With calves a year old?
Will the LORD be pleased with thousands of rams,
Ten thousand rivers of oil?
Shall I give my firstborn for my transgression,
The fruit of my body for the sin of my soul?
He has shown you, O man, what is good;
And what does the Lord require of you
But to do justly,
To love mercy,
And to walk humbly with your God?

Pray that God will fill His Church with a passion for justice, mercy, and humility so that we can respond with His heart to the needs of every woman experiencing a crisis pregnancy.
---
Prayer Focus
Lord, fill us with your love as we encounter women who are deceived by the devil today.
Open the eyes of the FPA abortion guards so that they consider what they are really guarding.
Help "Renee" to receive more help and support as she seeks to provide for her children, and help her children's father to take more responsibility.
Continue to expose the evil deeds of abortionists in Wichita, Alabama, and throughout the nation.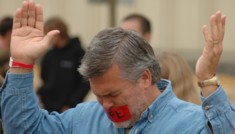 Jesus, I plead your blood over my sins and the sins of this nation. God, end abortion and send revival to America.
---
Elizabeth League Celebration May 31
LifeSavers Ministries' Elizabeth League groups will join together on Wednesday, May 31 for a special service starting at 6:30 pm at St. Joseph Church, 1515 Baker St. in Bakersfield. After the service (at approximately 8 pm) the groups will share a meal together at Santiago's Restaurant, 727 S. H St. If you are interested in attending the meal, please contact Terri at 323-2229 so that adequate preparations can be made. A donation of $12 would be appreciated to help cover the cost of the meal.
---
FPA guard threatens pro-lifers
FPA abortion chamber guard R. Perez threatened to assault 18-year-old Amy Palmquist* and others with pepper spray on the afternoon of Monday May 22 when another pro-lifer took a photo of a cross which is prominently displayed in the guard's car.
Perez, who emphasized her Christian beliefs as she spewed out dozens of expletives, is employed by R. Stanley Security Company, which has contracts to guard FPA and local Catholic churches.
In addition to guarding the abortion chamber, Perez's duties also include guarding one of the churches. "I know who goes in and who goes out," Perez said as she mocked Catholics, insinuating that they are hypocrites. "The people who go to that church, I see them over here" at the abortion chamber.
Chuck Thompson, owner of R. Stanley Security, claims to be an atheist.
---
Subscribe
FrontLine Ministry Focus
Volume 7 (2007)

("Weekly" Ministry Focus)
Volume 6 (2006)
Volume 5 (2005)
Volume 4 (2004)
Volume 3 (2003)
Volume 2 (2001)
Volume 1 (2000)