Other LSM newsletters

In Touch With LifeSavers features in-depth accounts of babies who have been saved and women who have been helped by LifeSavers Ministries, along with news about upcoming LifeSavers events and other ministry news. In Touch With LifeSavers is published occasionally, when funds allow.

Subscribe | Read back issues
Weekly Ministry Focus
---
Bakersfield police officers resist
statutory rape law enforcement
Bakersfield police officers chose to ignore the evidence of the crime of statutory rape which was rampant last week at Bakersfield's FPA abortion chamber. One of the victims may have been as young as 12 while another, a 15-year-old Bakersfield resident, was impregnated by a 20-year-old man, a clear violation of the law under even the most lackadaisical interpretation.
Numerous Bakersfield police officers came to the abortion facility endeavoring to hinder the free-speech rights of the Christians on the sidewalks, but none ventured inside to investigate the statutory rapes.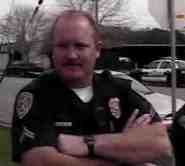 BPD Officer Rich Winslow
BPD Officer Rich Winslow told Terri* that unless one of the "parties involved" reported the crime, no investigation would be made.
"If they want to come forward, that is their business," Winslow insisted.
Life Dynamics, Inc. has recently exposed the nationwide scandal of abortionists failing to report statutory rape and other forms of abuse. For more information, go to www.childpredators.com, or www.lifedynamics.com.
---
More news from Weekly Ministry Focus Vol. 3 No. 5 [an error occurred while processing this directive]