Other LSM newsletters

In Touch With LifeSavers features in-depth accounts of babies who have been saved and women who have been helped by LifeSavers Ministries, along with news about upcoming LifeSavers events and other ministry news. In Touch With LifeSavers is published occasionally, when funds allow.

Subscribe | Read back issues
Weekly Ministry Focus
---
Pro-life kids assaulted,
threatened with arrest
Bakersfield police officers threatened to arrest four adolescent boys last Monday because the boys brought pro-life literature inside the waiting room of the FPA abortion chamber. Although the boys said they were assaulted as they left the waiting room, the officers chose not to believe them. Instead, the officers used the incident as an opportunity to intimidate LifeSavers team members with an imaginary court order and a distorted interpretation of the law.

Kids outraged by abortion
The boys were walking by the abortion chamber on their way to a fast food restaurant when they noticed a jar filled with plastic models of 12-week preborn babies. "They shouldn't kill babies -- that ain't cool!" one of the boys exclaimed. Debbie* gave the boys some pro-life literature, and after reading it, they decided to share what they had learned, hoping to save some the lives of some "little kids."
The boys walked upstairs to try to give literature to the girls in the waiting room. "Don't let them kill your baby," the boys begged. "There are people down there who can help you." When the boys were told that they had to leave, they immediately complied, starting to walk downstairs.

Teresa Avlos
According to the boys, FPA security guard Teresa Avlos then grabbed one of the boys, ripping his shirt, and hit each of the boys, even though they were already heading down the stairs.
Within a few minutes, two police cars arrived. Officer Rich Winslow handled the situation as if it were some sort of sinister conspiracy, alleging that "at [Debbie's] direction, she sent these juveniles in...., and they went in, and started distributing the pamphlets, which is in violation of the court order."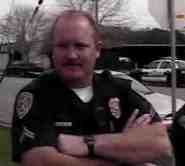 BPD Officer Rich Winslow
"What court order?" Tim* asked Winslow.
"Uh, you gotta stay so many feet away, you can't do these things," Winslow claimed.
"There is no court order," Tim responded.
"Well, regardless if there's a court order, this is a business, and they can trespass who they need to trespass, or who they want to, or people that cause disturbances," Winslow said. He contended that if the boys had gone upstairs "at Debbie's direction," she had violated the trespass law.
Realizing that the boys were no longer present, the officers asked Debbie if they could search her home. Debbie refused, knowing that the boys had never been in her home.
In less than an hour, the boys returned from the restaurant, not realizing that the police had been looking for them.. "I was walking upstairs trying to give the people some papers, so they didn't have to abort their kids, so they could have a life" one of the boys explained. "When she told me I was trespassing, I got off."
Then "she grabbed me by my shirt and hit me."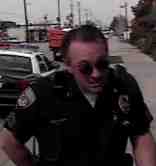 BPD Officer J. Borton
Officer J. Borton responded condescendingly to the young men's passionate concerns, saying "I understand you guys are young, and if you believe in something, good for you, you know, I'm happy for you.... I want you to know what the laws are, because I'm guessing you don't know what they are."
"But she committed a crime -- she hit us!" one of the boys responded.
Borton explained that he understood that Avlos had "grabbed" the boys, saying "That's her job. Her job is to stop people from trespassing."
"But assault is a criminal matter, officer," Tim contended.
"I know that," Borton said. "We're not gonna enforce it today." A citizen's arrest would also be ignored, according to the law enforcement official.
Tim asked Borton why Winslow had tried to enforce a non-existent court order instead of enforcing the law. "Perhaps he was mistaken," Borton responded.
Chuck Thompson, owner of R. Stanley security company (employer of Avlos and the other guards), came to the abortion chamber during the incident, instructing Avlos to "mace" anyone else who stepped on the property.
---
More news from Weekly Ministry Focus Vol. 3 No. 5 [an error occurred while processing this directive]