New parking restrictions impact you! Please voice your concerns!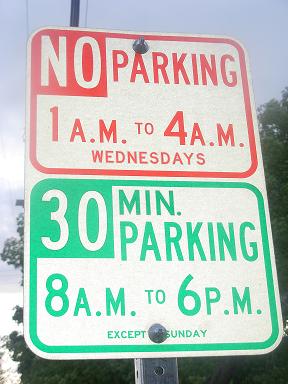 "The public will not be impacted by these new parking restrictions," Bakersfield's Public Works Director Raul Rojas told me mockingly on Wednesday. "This only affects you and your RV" (referring to our new Traveling Life Center mobile pregnancy help center).
Moments earlier, City Attorney Ginny Gennaro had told me, "this is not a controversial situation. I have only received one e-mail from a Council member about it." She was responding to my comment that in controversial situations, the City should study the situation more carefully before granting one party's request for a parking restriction.
Early last Saturday morning, a Bakersfield City crew snuck in to install 30 minute parking signs outside the abortion center at 25th and H when we weren't watching. The parking signs are apparently intended to interfere with our ministry activities, especially the Traveling Life Center RV. Now City officials like Raul Rojas want to convince people that it is too late to change anything because the signs have already been installed. Rojas told me that even if we submit a detailed study to prove that the 30 minute zone is not needed, he will not change his mind.
While leading Bakersfield City staff members like Rojas and Gennaro clearly oppose our efforts, most of the City Council members have expressed agreement with our concerns. However, the Council members have been convinced by the staff that there is nothing they can do about the situation. Of course, nothing could be further from the truth. The City staff works for the Council, not vice-versa.
In my various contacts with Bakersfield City staff members and Council members, it has become clear that Bakersfield has no written policy governing how they handle requests for parking restrictions. Instead, they are guided by an unwritten policy which assumes that business owners know best what parking restrictions are appropriate on public streets adjacent to their businesses.
A business like Family Planning Associates, however, which has full control over its own parking lots, should not be able to exercise sole control over the parking on the public streets near their property. Parking restrictions should be based upon the needs of the public, not just the needs of business owners.  A new, written, policy on timed parking which emphasizes the importance of considering the interests of the public may be necessary.
Council member Sue Benham, who apparently opposes our efforts, indicated that "longstanding city policy… is to accommodate timed parking to businesses" when a property owner submits a request and pays a fee, and City staff detects "no safety issues or inconsistencies."  I pointed out some safety issues (such as more children crossing the street) and inconsistencies (such as the fact that FPA tells its clients they need to allow at least two hours) to Gennaro and Rojas (I had previously explained these issues to the City's Traffic Engineer Ryan Starbuck), but neither seemed to consider them to be significant.
We have the names of over 700 people who have come to this area to pray over the past 9 months. Each of these people are members of the public who have a right to use the public streets. Most of these people needed to park in this area for more than 30 minutes at a time as they participated in prayer vigils.
If you are one of these people who has participated in prayer vigils in the past, or if you intend to participate in prayer vigils in the future, the City Council needs to hear your voice. They need to understand that their decision does not just affect "Tim and Terri Palmquist and their RV," but that hundreds of their constituents are concerned about this.
The next City Council meeting is coming up on Wednesday evening, June 10. At that meeting, we hope to present the Council with a petition bearing hundreds of signatures of people asking the Council to remove these parking restrictions. We also hope that many people will come to the Council meeting to speak out against these parking restrictions. Please print out a petition (available in English and bilingual versions) and gather signatures this Sunday at church or at other locations where you meet people who may be concerned about this situation.
And if you are willing to speak to the Council during the public comment time at Wednesday's meeting, please call us at 706-2229 so that we can coordinate the speakers to obtain the maximum impact.
Please return all signed petitions to us by 5 pm on Wednesday, June 10.
Posted: June 5th, 2009 under Action needed.
Comments: none