Pregnant woman's dream reveals God's "still, small" voice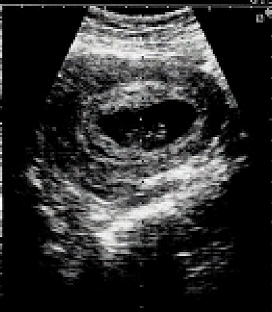 The night before she came to Bakersfield's abortion center, "Fabienne," 38, had a vivid dream.  But when she woke up, she tried to forget the dream, determined to follow through with her abortion plans because she felt that her circumstances were too difficult.
Throughout her lifetime, Fabienne has been experiencing abuse at the hands of the men in her life.  Growing up in Mexico, she was subjected to an arranged marriage at the age of 18.  Soon her husband moved them to the United States, where she raised their three children, who are now teenagers.  After ten years of enduring her husband's abuse, she left him.

Another man took Fabienne and her children under his wings for the past eleven years, but he too became abusive.  He suffers from diabetes, so he has been unable to father children.
Recently she became involved with a man whom she found to be very physically attractive.  She thought she was in love with him, until she found out that he abuses drugs.  When she confronted him about his addiction, he too became physically abusive, so she cut off the relationship.
When she discovered that she was pregnant, Fabienne knew that her pregnancy would anger the man with whom she lives, resulting in severe abuse.  So she felt that abortion was her only option.
Outside Bakersfield's abortion center, Terri offered help to Fabienne.  Fluent in speaking English after 20 years in our country, Fabienne told Terri that she needed to get a job so that she could escape from her abusive living situation.
Fabienne told Terri that she was only four weeks pregnant, but Fabienne's circumstances led Terri to believe that her pregnancy might be further along than Fabienne had thought.
Fabienne agreed to allow Terri to take her to have an ultrasound examination.  But on the way, Fabienne asked Terri, "will you help me get a job even though I am going to go through with the abortion?"
"Well," Terri replied, "the people I know who are willing to help women are primarily interested in helping pregnant women, so it will be much more difficult to find help for you if you are not pregnant."
While Fabienne took a pregnancy test, Terri sent a message on Twitter asking for prayer for Fabienne.  Terri knew that usually ultrasounds are not performed on women who are only four weeks pregnant, because the baby's body cannot be seen clearly.  Terri's experience in witnessing ultrasounds in early pregnancy had in the past been very disappointing.
When Fabienne was brought in to the ultrasound room, she asked "can my friend Terri be in here too?"  Terri was pleasantly surprised to hear Fabienne refer to her as a friend.
"You're only four weeks along," the ultrasound technician said, "so all we'll see right now is a beating heart.  But we'll schedule you to come back in a few weeks and you'll be able to see the baby much better."  Terri cringed when she heard this, hoping that this news would not motivate Fabienne to go through with the abortion right away.  Terri prayed a silent prayer that Fabienne would be able to get a good view of her tiny baby on the ultrasound screen.
But before the picture appeared on the screen, Fabienne amazed Terri by turning to her with tears in her eyes and saying, "don't worry, I'm not going through with the abortion.
"I had a vivid dream last night," Fabienne continued, "and I can't get it out of my mind.  There were all these people dressed in white who were heading toward a bright light.  As they walked toward the light, they were passing by a baby who was lying on the ground.  Nobody seemed to pay any attention to the baby, but just continued on toward the light.
"I walked by the baby on my way to the light, but I kept turning around to get another look at the baby.   Eventually, I was a great distance away from the baby, getting close to the light, but I could still hear the baby's cries.  Finally, I couldn't stop myself from running back and picking him up.  He looked so cute!" Fabienne exclaimed, "He looked just like the father of this baby!
"As I held the baby close to my heart, I woke up," Fabienne concluded, "finding my arms crossed across my chest as if I had still been still holding him."
When the picture appeared on the screen, Terri was astounded to immediately see a clear picture of a beautiful, tiny 8 week preborn baby moving around.  "It was the best ultrasound picture I have seen so early in pregnancy," Terri later exclaimed.
"I think everybody has a voice inside, telling us right from wrong," Fabienne told Terri after the ultrasound.  "But it's just that it is a very quiet voice and we have to listen carefully for it.  The voice that tells us what is right is the one we usually tend to ignore.  I heard that voice telling me 'don't do it!' and I listened.
"I'm sure that my little baby is a boy," Fabienne said as she hugged Terri, "and I'm going to keep him!  Thank you so much for helping me to make the right decision!"
Through Twitter, several people had the opportunity to be a part of this victory by praying for Fabienne right at the moment when she needed it most.  If you receive our brief, timely ministry updates on Twitter through your computer or through text messages on your phone, you can be a part of future victories!
In spite of Fabienne's enthusiastic decision, she still faces extremely difficult circumstances.  However, she is a very intelligent and talented woman (her talents include making beautiful jewelry and writing children's stories).  If you are willing to help her, please contact Terri at 706-2229.
Update! (April 20, 2009) Fabienne was hired for a fantastic job which pays extremely well! Praise God!
Posted: April 16th, 2009 under Praise reports, Prayer request.
Comments: none