Abortion seeker mistaken for prayer supporter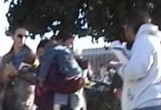 When "Mirabelle" arrived at the abortion center holding her little girl, Terri thought that she was there to pray at the 40 Days for Life vigil, so Terri offered her a place to sit.  "Oh, no, I'm looking for the clinic," Mirabelle responded in broken English.
"Do want an abortion?" Terri asked.
"Yes," Mirabelle responded.
Mirabelle was having difficulty speaking English, so Terri tried calling several Spanish-speaking people.  After several failed attempts, Terri decided to call Lola, even though she knew that Lola had been at the prayer vigil in the middle of the night.
Terri's call woke Lola up.  During a long conversation with Mirabelle, Lola learned that her husband is leaving her and she has seven children.  "God promises to be a father to the fatherless," Terri told her.
Terri then showed Mirabelle an abortion video using a handheld video player.  Eventually another prayer supporter arrived and began talking to Mirabelle.  Soon the tears coming down her face showed that Mirabelle's heart had changed.
Terri gave Mirabelle a Spanish Hope for the Future Bible and took down her contact information so that LifeSavers Ministries and/or the Elizabeth League can help her through this difficult pregnancy.
Mirabelle was the first answer to prayer of the day for Terri, who had prayed for God to save five babies on Tuesday.  You can read more about the amazing way that God answered this prayer on the 40 Days for Life blog .
Posted: October 15th, 2008 under Praise reports.
Comments: 1
Comments