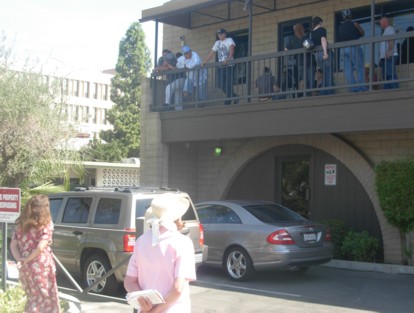 The abortion chamber's waiting room was so crowded today that the balcony outside was full of people waiting.  In all these years, we have never seen it this full.  One woman waiting for an abortion yelled "they crucified Jesus, so we should crucify you!"  The Christians on the sidewalk responded in prayer.
The abortion center seems to be trying to abort as many babies as possible before the start of 40 Days for Life .
A few hours later, Sister Paula from Nicaragua arrived on the sidewalks outside the killing center.  She is on a mission trip to the United States and she had heard about us so she wanted to stop by and meet us.
When she heard about the busy morning and hostile reactions at the abortion business, Sister Paula spent time praying around the building.
Sister Paula runs a maternity home in western Nicaragua.
Posted: September 22nd, 2008 under Uncategorized.
Comments: none