Baby saved by a song!
"Felicia" arrived for her abortion appointment on March 17 at Bakersfield's Family Planning Associates abortion chamber, determined to end the life of her child.  But as she stepped out of her car, she heard something she didn't expect.  A song filled the air, providing a gentle reminder of God's love for herself and for the child in her womb.

The music came from across the street, where Lamar Hagan stood singing and playing his guitar on Operation Soulwinner's portable sound stage.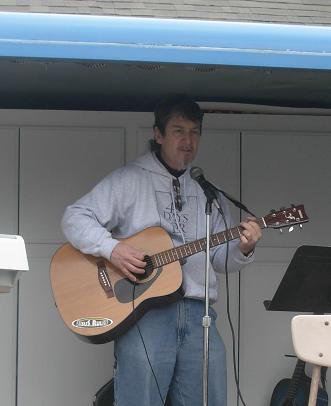 (Listen in to an excerpt from this song which God used to save this mother and baby from abortion.)
A group of Christians prayed on the sidewalk outside the abortion center, noticing Felicia walking back to her car.  As they offered help to her, Felicia told them that she had changed her mind because of Lamar's song.  They called Lamar over, telling him that God used his song to save a baby.  (Listen in to hear the grateful words of this woman who was moments away from aborting her baby.)
When I heard Felicia exclaiming "Thank you, thank you so much!" it reminded me once again that what we do is a service to women (not just to the babies).  Moments earlier, this same woman had "made up her mind" about abortion, but when women repent of their abortion decisions, they are filled with joy and relief as they realize what they have been saved from.   
The portable stage had been brought to the LifeHouse pregnancy help center for the 40 Days for Life closing rally held the previous night.  This was the first time we had ever tried to use the portable stage on an abortion day, but the positive impact was immediately evident, especially Lamar allowing God to minister through his music.
Posted: May 13th, 2008 under Praise reports.
Comments: none